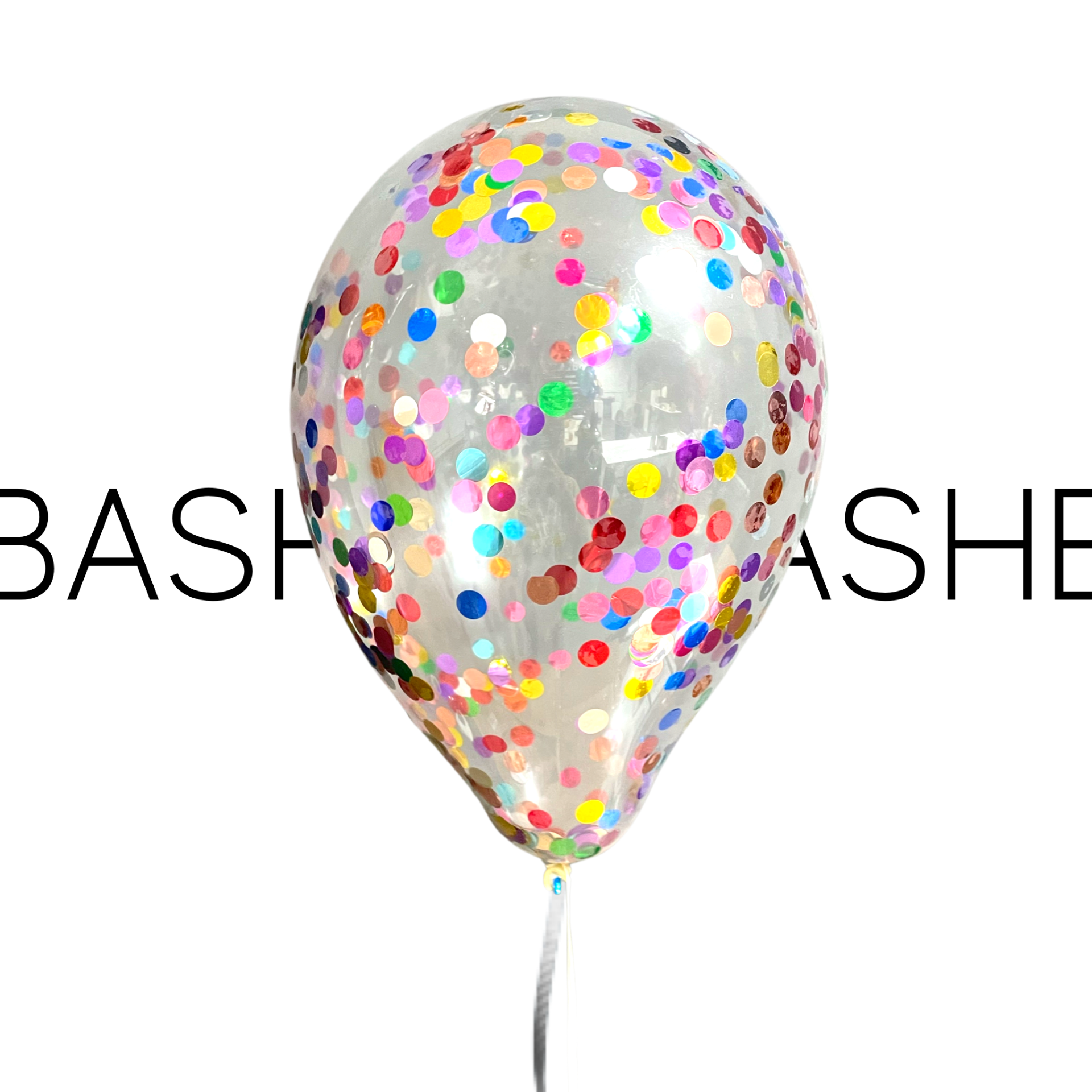 Multicolor Mini Confetti Balloon Set
Add some sparkle to any occasion with this Mini Confetti Balloon Set. These BASHES premium 12" balloons are the perfect addition to other balloon bundles and can also stand alone for fun and festive décor. Each set contains 3 mini confetti balloons and make a great addition to any celebration!
Product Features: 
Helium Filled and Assembled 
3 - 12" Traditional Size Balloons Included 
Matching Balloons Ribbon Included 
Balloon Treatment Included For Extended Float Time 
Have a question about this product or how to purchase?
FAQ
Will my balloons have helium?
Yes! Most balloon orders are helium filled to ensure your balloons float.
How long will my balloons last?
Float times will vary based on the balloon material and balloon size.
When will my balloons arrive?
Schedule your delivery at checkout and our team will deliver within the time frame that you select.
What size are my balloons?
Most balloon clusters measure about 2ft wide. Any clusters with oversized balloons will span 3ft wide. Standard ribbon length is 7ft.
RECEIVING YOUR ORDER
Delivery
Schedule a delivery to any location within 50 miles of 20006. Request a delivery for orders outside of this area. That's right...any location in DC, Maryland, and Virginia.
Pick Up
Place an order online and schedule a date and time to pick up your order from our warehouse. Instructions will be emailed to you after you complete your purchase.
Order Tracking
Once your order has been placed our team will update your order status. Use the 'Order Status' link from our main menu to view the status of your order. You will also receive email/text notifications from our team.
ABOUT BASHES.
Minority Woman Owned
Founded in 2018 with customer experience in mind, BASHES was created by Maryland native Brittany Johnson for the modern family who lives life out loud and celebrates lots of special occasions every year.
Premium Quality
Over 60% of BASHES customers repeatedly use our balloon delivery service because of long lasting high quality. Our products stand out from the rest with high quality foils, unique colors, proper inflation and useful service to your location.
Innovative Service
Over the past 5 years BASHES has perfected the balloon delivery service! We stand by our 'hassle free' balloon delivery experience from start to finish. Easily order products online and have them delivered when and where you need.